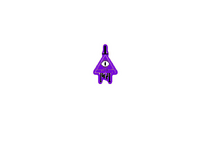 Summary
Flatlandee is a second dimensional being, one of the last remaining second dimensional characters
Story
Quadrillions of years ago, there were millions of dream angels that inhabited the multiverse. One of them was Flatlandee (Yeah i ran out of ideas). Flatlandee often fought off drean demons that plauged minds. Until one day, Bill used his power to destroy nearly all of the dream angels. However, Flatlandee was able to escape before bill's massacre. Now, Flatlandee vows to get rid of the demon who killed his friends.
Personality
Flatlandee was commonly annoying to deal with.
Appearance
Powers and Stats
Tier: 11-A
Name: Flatlandee (His parents were really interested in Edwin Abbot)
Origin: A dream angel that existed quadrillions of years ago.
Gender: Unknown (Dimension has over 14 Billion dimensions)
Age: Quadrillions of years old.
Classification: 2D triangle.
Powers and Abilities:
Reality Warping (on a 2D scale), Dream Manipulation (Can change and warp the minds of second dimensional characters), Resistance to Madness Inducement (Was unaffected by going into the Nightmare Realm)  
Attack Potency: Plane Level (A second dimensional being, survived the destruction of the second dimension)
Speed: 
None (Below 3D concepts of speed)
Lifting Strength: 
None
Striking Strength: 
Plane Level
Durability: 
Plane Level
Stamina: Inexhaustible
Range:
Plane Level
Standard Equipment: 
None Notable
Intelligence: Average Human Level
Weaknesses: 
-A second dimensional being
'Notable Attacks/Techniques: None Notable
Feats
Survived the initial destruction of the second dimension